Citroen's Electrifying "My Ami Buggy" Returns in Style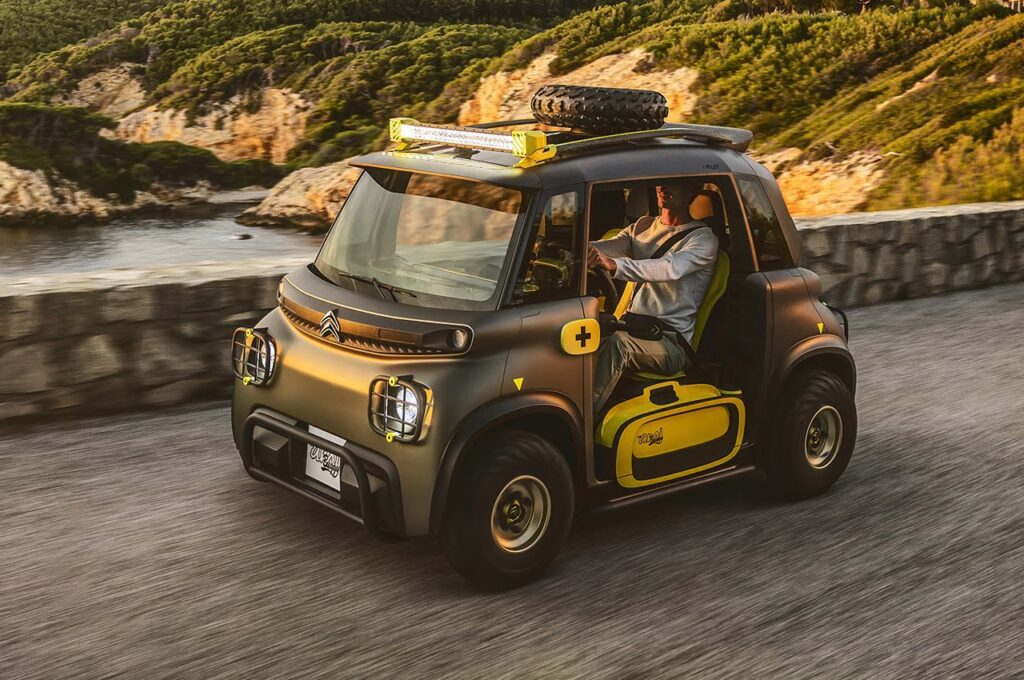 Bookings for Citroen's highly sought-after electric beach buggy, My Ami Buggy, are set to open on June 20, marking its triumphant return.
With a limited stock of 1,000 units, this exceptional electric vehicle promises a captivating and thrilling driving experience, all while prioritizing affordability and sustainability.
Geared towards beach enthusiasts and open-road adventurers, the Ami Buggy comes with a price tag of $11,300 and eager customers can expect deliveries to commence by the end of summer.
Unleashing the Power of Demand
Citroen's decision to produce 50 units of the Ami buggies in 2022, following the overwhelming response to their concept version, proved to be a masterstroke.
Reportedly, all 50 units were snatched up by eager buyers within a mere 18 minutes.
The automaker proudly claims that the new edition of My Ami Buggy will exude charm, blending fashion and robustness seamlessly. It beckons adventurers to explore the urban jungle and embrace a unique way of life in the open air, particularly in close proximity to the mesmerizing sea.
Since its debut in late 2020, Citroen's Ami series has witnessed remarkable success, with over 30,000 vehicles sold across nine countries.
Alongside the eagerly anticipated My Ami Buggy, the series features the standard Ami and My Ami Cargo models, catering to various mobility needs.
A Compact Marvel: Perfect for City Escapades
The new edition of My Ami Buggy draws inspiration from its compact predecessor, the Ami, boasting dimensions of 2.41 meters in length, 1.39 meters in width, and 1.52 meters in height.
Weighing a mere 485 kg, including the battery pack, this electric vehicle is powered by a 5.5 kWh battery, providing an impressive range of 69 kilometers and a top speed of 45 km/h.
It's a practical choice for those seeking efficient transportation for short city runs.
My Ami Buggy showcases a distinctive two-seat configuration with door bars in lieu of traditional side doors.
For added convenience and protection, users can opt for zipping clear coverings and a waterproof canopy, which can be effortlessly removed or rolled back on days blessed with perfect weather.
My Ami Buggy Wins Hearts
Citroen proudly highlights the affordability and practicality of My Ami Buggy, making it an enticing option for urban dwellers, students, and eco-conscious individuals in search of a sustainable mode of transportation for short-distance journeys.
Furthermore, since it falls under the quadricycle category, some European countries do not require a driving license to operate such vehicles, making them particularly popular among teenagers.
Championing Green Mobility
The Ami has made a significant contribution to embracing greener transportation in Halki, Greece, where the local police and coast guard have adopted it for their patrolling duties.
Similarly, the island of Maddalena in Italy has added seven Ami vehicles to its fleet, utilized by the police and port teams to promote clean and eco-friendly mobility solutions.
As the demand for these exciting and environmentally conscious vehicles continues to soar, Citroen may once again witness an astonishing sell-out of their limited offering within days.
Related Posts