Ultraviolette F99: India's Premier Electric Superbike Dominating at 265 Kmph
Estimated reading time: 3 minutes
Electric Motorcycle Mastery at EICMA 2023
Ultraviolette Automotive, once again, asserts India's dominance in electric motorcycle manufacturing by revealing the latest evolution of the F99 Factory Racing Program at EICMA 2023. This upgraded F99 sets new standards, surpassing the brand's previous debut at the Auto Expo 2023.
Power and Performance Redefined
The race-ready F99 showcases a liquid-cooled powertrain, achieving an astounding peak power output of 90kW, securing its position as India's fastest electric superbike with an impressive top speed of 265kmph. Beyond its ability to accelerate from 0-100kmph in just 3 seconds, the F99 boasts advanced aerodynamics.
Winglets and ducts adorn the front cowl, side panels, and rear end, integrating active aerodynamics. Innovative design and engineering shine through in elements like the windshield and front cowl ducts, contributing to its active aerodynamic prowess.
Technical Marvels and Design Elegance
Delving into the F99's details reveals a steel hybrid frame, aluminium swingarm, and carbon fibre bodywork. The motorcycle flaunts a 1400mm wheelbase and a tire setup featuring 120/70 R17 front and 180/55 R17 rear.
Impressively, the F99 maintains a nimble profile with a mere 178kg kerb weight. Complementing its aerodynamics are the gold USD fork and mono-shock suspension setup, coupled with carbon fibre covers for the 17-inch wheels.
The CNC machined rear sets, introduced during the Auto Expo 2023, remain a focal point, offering adjustability to cater to the rider's preferred posture on the motorcycle. This commitment to rider comfort and customization adds an extra layer of appeal to the F99, setting it apart in the electric superbike landscape.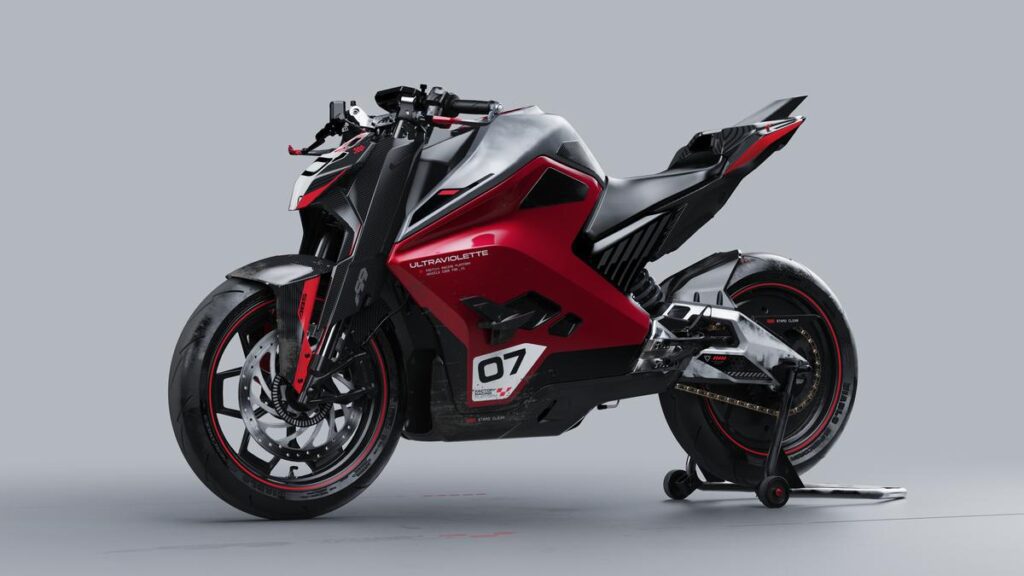 Ultraviolette Automotive emphasizes that the F99 Factory Racing Program isn't exclusively designed for racing enthusiasts. In a surprising move, the production version is slated to launch globally in 2025, with an anticipated price tag of around Rs 8 lakh (ex-showroom).
This places the Ultraviolette F99 in direct competition with traditional petrol-powered superbikes like the Triumph Trident 660 and the Kawasaki Z900.
European Expansion with the F77
In another exciting development, Ultraviolette Automotive announces the imminent availability of the F77 in Europe. Priced between 9,000 to 11,000 Euros (approximately Rs 8 lakh to Rs 9.19 lakh), the F77 is making waves on a global scale. Registrations for the European market are set to kick off on November 15, 2023.
The European-spec F77 mirrors the output figures of the F77 Space Edition, a testament to Ultraviolette's unwavering commitment to delivering cutting-edge electric motorcycles.
Already a force in the Indian market, the F77 holds the title of the fastest electric motorcycle on sale and boasts the highest range among electric motorcycles in India.
Related News