Unveiling Lambretta's Elettra at EICMA 2023
Lambretta's Elettra, making waves at the International Motorcycle and Accessories Exhibition (EICMA) 2023, seamlessly merges timeless design with cutting-edge electric technology.
A Fusion of Tradition and Modernity: Elettra's Aesthetic Evolution
At EICMA 2023, Lambretta took the wraps off its highly anticipated Elettra electric scooter, marking a significant leap in stylish and sustainable urban commuting.
The event, held in Milan, not only showcased the scooter's sleek silver exterior but also highlighted its innovative features, harmonizing Lambretta's classic essence with state-of-the-art electric technology.
Redefining Design: Modern Elements Infused with Tradition
The Lambretta Elettra, with 77 years of Lambretta's rich history, pays tribute to its predecessors while embracing the demands of contemporary urban mobility. The departure from traditional circular handlebars to a T-shaped design signifies a modernized approach. The hexagonal white beam adds a futuristic touch, enhancing safety and aesthetics simultaneously.
Lambretta's silver electric scooter is set to enter production soon, allowing enthusiasts to experience the innovation of Elettra's T-shaped handlebars.
Functionality meets Futurism: Geometric Handlebars and Illuminating Brilliance
The transition from circular to geometric handlebars not only elevates the scooter's visual appeal but also underscores Lambretta's commitment to functionality. The unique T-shaped handlebars and hexagonal white beams contribute to a distinctive riding experience. The LED lighting setup, featuring a distinctive "hooked" configuration, not only adds brilliance to the scooter but also ensures heightened visibility for night riders.
Sharp Lines and LED Brilliance: A Visual Symphony
Sharp and decisive lines define the sides and front of the Elettra, softening as they trail to the rear end, resembling gently bent steel in its casing.
Unveiling the Electric Heart: Power and Performance
Beneath its striking exterior, Elettra houses an 11 kW (15 hp) electric motor, propelling the scooter to a maximum speed of around 68 mph (110 kph).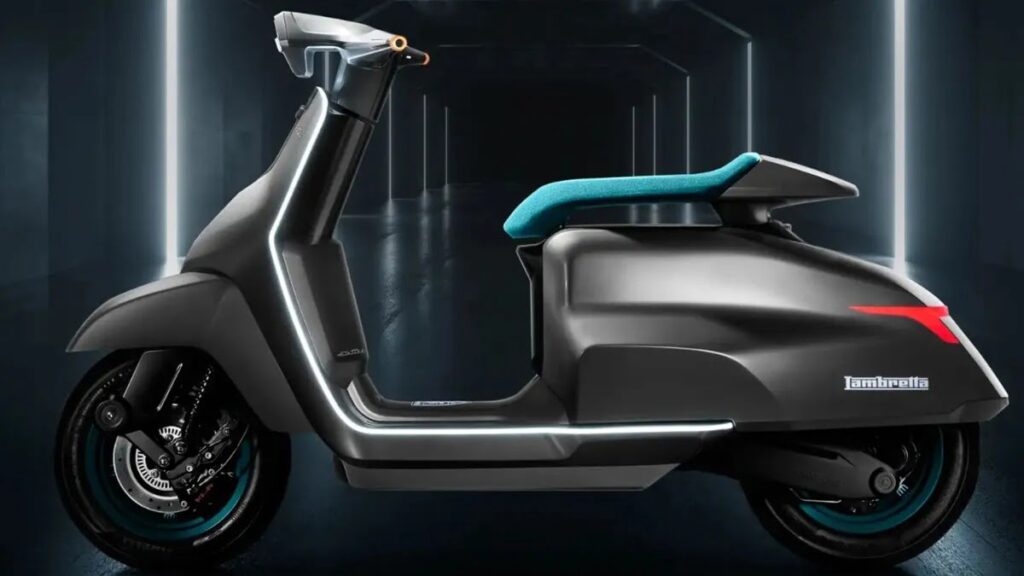 The lithium battery, boasting a 4.6 kWh capacity, fuels the scooter's journey. Charging is a breeze, requiring approximately 5 hours and 30 minutes through a 220V home system. The Elettra also offers a 'fast charge' option, enabling riders to replenish up to 80 percent of the battery in just 35 minutes at public charging stations.
Efficient and Powerful: The Motor at the Hub
The 15hp permanent magnet synchronous motor is strategically placed at the hub of the back wheel, offering three riding modes—Eco, Ride, and Sport—thanks to 258Nm of instantaneous torque.
Urban Adaptability: Tailored for Every Rider
Beyond catering to aesthetics and speed enthusiasts, the Elettra is purpose-built for the urban commuter. With three distinct riding modes—Eco, Ride, and Sport—it accommodates different preferences, ensuring a personalized riding experience. The scooter's range, dependent on the selected mode, caters to the diverse needs of both urban and suburban riders.
The seat height stands at 30 inches (780 mm), the weight in running order is 298 lbs (135 kg), and the maximum speed reaches approximately 68 mph (110 kph).
Anticipating the Road Ahead: Elettra as a Future Classic
While Lambretta is yet to unveil the official release date and pricing details for the Elettra electric scooter, the anticipation among enthusiasts is palpable. Elettra's fusion of heritage and futuristic design, coupled with its eco-friendly performance, positions it as a potential future classic in electric urban mobility. As urban landscapes evolve, the Lambretta Elettra promises not just a mode of transportation but a statement of style and sustainability on the city streets.
Related News