Government Making a Plan for Greening Indian Shipping Sector: Achieving Decarbonization Targets by 2030 and Net-Zero Goals by 2070.
Estimated reading time: 4 minutes
Shri Sarbananda Sonowal, the Union Minister for Ports, Shipping, and Waterways( MoPSW), has pointed up the importance of creating a blueprint for India's shipping industry to become more environmentally friendly by greening the Indian shipping sector. The Minister highlighted the need to implement plans for introducing clean energy in the maritime industry in his statement at the Global Sustainable Development Summit 2023 in New Delhi.
The last Union Budget, which was presented to Parliament, precedented "green growth," with a clear emphasis on achieving net-zero emissions by 2070 and decarbonization targets for 2030. A PPP model with viability gap funding was used to promote coastal shipping as an affordable and energy-efficient source of transportation for both people and commodities.
Since India holds a group of twenty presidents this year, are talking about carbon-free transitions and sustainable energy, according to Shri Sonowal. A strong emphasis is being made on technology transfer, which is essential for navigating the transition to a carbon-free economy, in order to reiterate inclusive green growth as a development strategy. Also, it is crucial to implement carbon-free transition regulations and conduct accurate analyses of new energy and fuel options.
The World Sustainable Development Summit is The Energy and Resources Institute's (TERI) annual signature event, and the Minister expressed his joy at participating in it. In the ecosystem of carbon-free growth, The Energy and Resources Institute plays a critical role as a research organization that is continually seeking answers to increase the planet's sustainability.
In order to establish the nation's first National Center of Excellence in Green Port and Shipping at the organization's field station in Gwal Pahari, the Ministry of Ports, Shipping, and Waterways (MoPSW) and TERI recently joined forces. The Deendayal Port Authority, the Paradip Port Authority, the VO Chidambaranar Port Authority, the Cochin Shipyard Limited, and TERI all contribute their knowledge to this National Centre of Excellence. It would be crucial to create legislative frameworks and adopt roadmaps for alternative technologies for carbon-free shipping in India.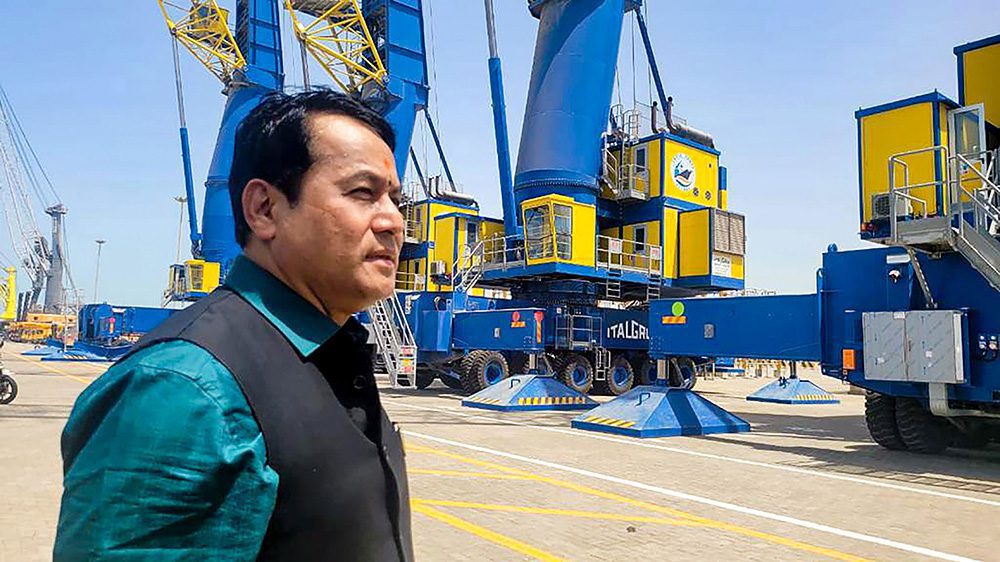 The Minister emphasized the necessity of putting in place the policies, structures, and processes that will make this transformation possible as inclusive carbon-free growth increasingly becomes the cornerstone upon which future development must be built. Decision-makers will have a technique and framework to execute carbon neutrality measures and fulfil their obligations under the Paris Accord thanks to initiatives like the NCoEGPS.
According to the International Maritime Organization (IMO), fossil fuels currently supply about 99% of the energy needed by the coastal shipping industry. However, if current trends continue, the shipping industry's Co2 gas (GHG) emissions could increase by 50% to 250% by 2050 compared to 2008 emission levels. The IMO's overarching goal is to phase out Co2 gas emissions from the industry as soon as practical this century, according to its 2018 adoption. The MoPSW has set a target to reduce GHG emissions in the Indian shipping sector to 30% by 2030, in accordance with the IMO's goal, fuels like marine gas oil and fuel oil (MGO) at the International Maritime Organization
According to a statement from the Ministry of Ports, Shipping, and Waterways, the Indian government is taking action to reduce air pollution caused by port operations. Carbon monoxide, volatile organic compounds, nitrogen oxides, sulfur oxides, and particulate matter are some of the main air pollutants produced by port activities.
Indian major ports are implementing a variety of efforts to lessen the effects of these pollutants, including expanding the area covered by carbon-free space, converting diesel RTGCs to E/hybrid RTGCs, and switching to a mechanized method of handling dry bulk. Additionally, it is anticipated that the recently established National Centre of Excellence for Green Ports and Shipping (NCoEGPS) will significantly contribute to the achievement of the nation's Vision 2030 pollution reduction goals.
The Indian government sees a carbon-free shipping industry as an essential component of creating a blue economy that is sustainable. To meet its 2030 and 2070 aims and decarbonize the industry, the Ministry is launching a number of projects. The declaration emphasizes how crucial it is to use low-sulfur fuels and reduce emissions in order to build a successful blue economy.
In general, attaining the nation's long-term environmental goals would depend on the Indian government's efforts to lower air pollution from port activities and create a green shipping sector.