Sustainable Artemis EF-12 Escape Electric Hydrofoil Water Taxi
Combining Luxury, Efficiency, and Sustainability for Seamless Urban Travel
The Artemis EF-12 Escape, an innovative electric foiling water taxi, brings together the speed and efficiency of a hydrofoil with the elegance and comfort of a luxury vehicle.
Developed by Artemis Technologies, a renowned Belfast-based company, this futuristic mode of transportation offers a fast, eco-friendly, and seamless travel experience.
With its advanced specifications and focus on sustainability, the EF-12 Escape presents an ideal solution for urban mobility, particularly in cities with extensive water networks.
Effortless Gliding with Electric Foiling Technology
At the heart of the EF-12 Escape lies the cutting-edge Artemis eFoiler system, capable of lifting the vessel's hull out of the water, minimizing drag, and maximizing speed.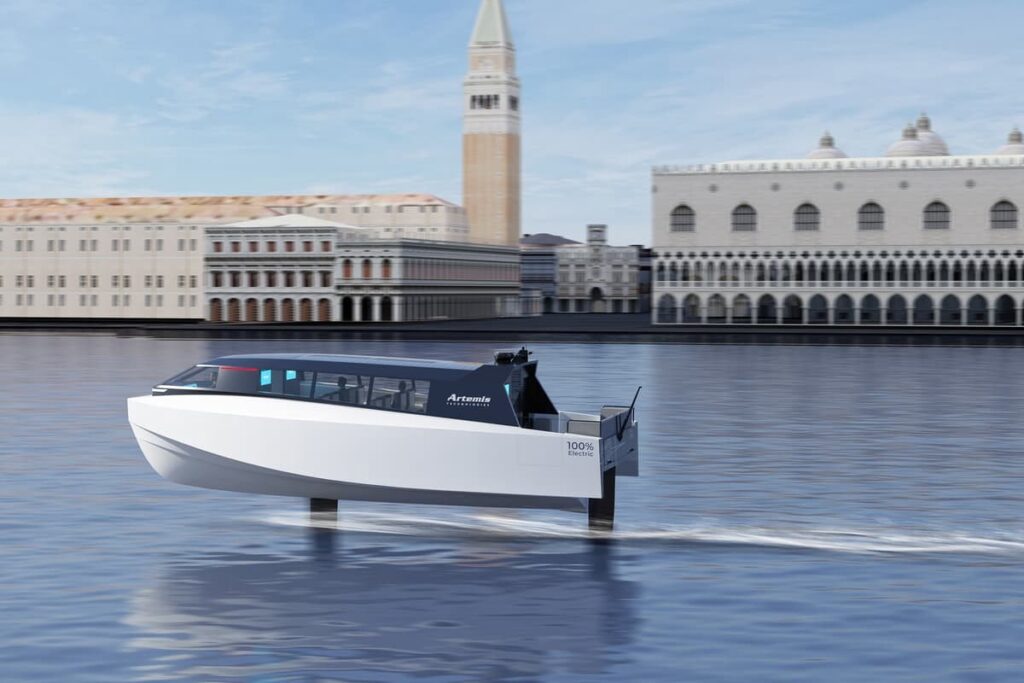 This unique electric foiling technology allows the water taxi to glide smoothly on the water's surface.
Powered by an electric motor, these taxis not only offer a quiet and comfortable ride but also reduce environmental impact by eliminating harmful emissions.
The shift towards electric power provides a sustainable alternative to traditional gasoline-powered taxis, further contributing to a greener future.
Luxury and Comfort for Unmatched Passenger Experience
Designed with luxury and passenger comfort in mind, the EF-12 Escape showcases high-end finishes and spacious, air-conditioned seating for up to 12 passengers, in addition to accommodating two crew members.
The vessel seamlessly combines the sleek style of a traditional monohull with the uncompromising performance of the revolutionary Artemis boiler system.
To ensure a smooth ride, an advanced autonomous flight control system minimizes the effects of seasickness, often associated with choppy water conditions.
Artemis Technologies aims to deliver a sustainable, comfortable, and luxurious passenger experience, prioritizing both customer satisfaction and environmental responsibility.
Impressive Speed and Range with Rapid Charging Capability
The fully-electric water taxi can reach an impressive top speed of 30 knots (34 mph, 55 km/h) and offers a foiling range of 52 nautical miles (60 miles, 96 km).
Furthermore, the EF-12 Escape boasts ultra-fast charging capability, allowing for a full charge in less than 60 minutes.
This remarkable combination of speed, range, and rapid charging ensures an efficient and reliable travel experience for passengers, making it a versatile choice for various urban transportation needs.
Ideal for Environmentally Sensitive Waterways
With zero emissions and minimal wake even at high speeds, the Artemis EF-12 Escape stands out as an ideal water taxi for environmentally sensitive waterways.
It's eco-friendly design and low environmental impact make it a responsible choice for cities aiming to reduce their carbon footprint. By offering a sustainable and luxurious alternative to traditional taxis, the EF-12 Escape sets a new standard in urban mobility, fostering a greener and more enjoyable transportation experience.
Configurable for Practicality and Accessibility
Artemis Technologies provides customers with the flexibility to configure the EF-12 Escape according to their specific operational requirements.
The vessel features a sliding door that separates the guest area from the luggage racks, ensuring passengers remain cool and refreshed during the loading of baggage.
Accessibility is a priority, as the water taxi offers a wide wheelchair-friendly aperture of 1175mm, allowing easy access for all passengers.
With a total length of 39 ft (12 m) and a weight capacity of up to 11 tonnes, the EF-12 Escape strikes a balance between practicality and luxury.
Embracing Innovation and Sustainability
The launch of the Artemis EF-12 Escape water taxi marks a significant milestone for Artemis Technologies, showcasing the company's unwavering commitment to innovation and sustainability.
By combining cutting-edge technology, luxurious design, and environmental consciousness, Artemis is revolutionizing the way people travel within cities.
Booking for this exceptional water taxi is now open, allowing passengers to experience the seamless blend of luxury and sustainability firsthand.
Prepare to embark on an extraordinary journey with the Artemis EF-12 Escape, where elegance, efficiency, and a greener future converge.
Related Posts