Move over CNG Autos, Coz Apé E City Electric Vehicle will revolutionize Intercity Transportation.
Have you ever thought the rickshaw we always board for commuting from place A to place B contributes to city congestion with 10% CO² emissions? When an EV SUV is available, why not an EV for auto-rickshaws? Well, one company believes in reinventing itself and armouring itself with new products that can cater to the EV segment. It is Piaggio Pvt. LTD has launched Apé E city for swappable lightweight transportation, which caters to goods transportation and is an alternative for travelling intercity.
Let's hear the stats on EV.
Electric two-wheeler sales increased by 25% in April '23. 66,529 new electric scooters were sold as per the Vahan portal. 
The urban cities like Bengaluru and Pune contributed 18%. 
The above stats testify to public awareness and sustainable choices for consumers in every segment. Steadily, India is moving towards smarter choices by accounting for 6.5% of the new Electric two-wheeler registrations in India. A more than 5% market share implies that the product is gaining visibility, and growth will rise rapidly. 
Okay, I'm sold on the fact that "EV is the future." But why is EV in lightweight transportation?
Apé E City, the Solution we need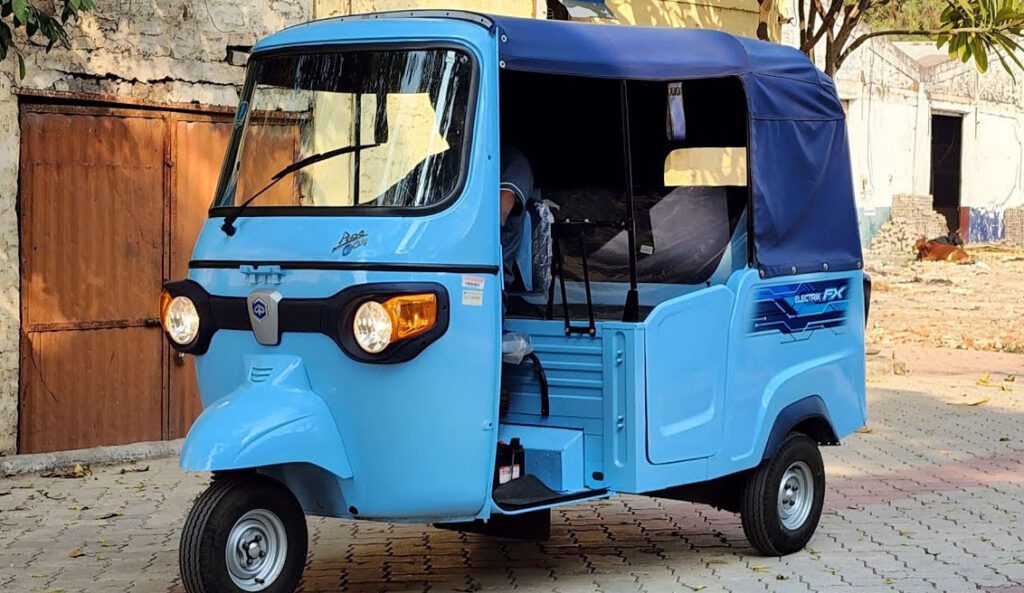 Auto Rickshaws are a go-to mode of transport for every class and it is easily available in metro cities to Tier 2 cities. Therefore, transforming the auto rickshaw into an environmentally sustainable mode of transport is utmost necessary. But, It comes with its own set of challenges.
One of the reasons is that it is priced between Rs.195,000 – Rs. 283,878.
Becoming a market leader with a noble cause under its wings is a tough job. But the work has been cut out for the Piaggio visionaries. They want to give consumers a quality product with customer satisfaction as its core value. They can achieve this in domestic and overseas markets by ensuring
Low cost of manufacture
Larger profitable growth
Sustainable domestic & global competition
Maximized stakeholder's delight and pride
Strong Business ethics.
But the EV is not all about economics and the environment. What makes the newly launched Apé E city desirable is its stylish Italian design with an attractive front look in powder blue. Dual-tone seats give extra room for more people. Beautiful chrome branding will only make the car more luminous. Let's know more about its performance and special features.
Characteristics of APÉ E CITY
The main features include the following:
higher Gradeability
Enhanced pick-up with an add-on boost mode.
Low maintenance as there is no clutch or gear.
The cost of covering one kilometre stands at 0.40 paisa.
No road tax.
No permit cost.
8kWh, capacity with Li-ion battery. Therefore, it has a higher range per charge.
Piaggio Is offering an introductory 3-year AMC package at a nominal cost of Rs.3000.
Did we say there is less noise and suspension?
Enjoy the blissful life of less noise. The vehicle can easily carry loads of load as 3,00,000 tons of freight is travelling from one city to another. What's more? It has 1100 touch points where you can solve the problem and pioneer customer care service. Global standards in customer service and vehicle programs go a long way for the vehicle and build trust.
But Piaggio has done a splendid job on customer service by launching Telematics 2.0. Now, let's get to the real deal.
Characteristics of Telematics 2.0
Real-time vehicle location.
It will alert you of the number of units used for electricity.
Battery storage alert.
The average range of charges used
More Technical Specifications
| | |
| --- | --- |
| Vehicle category | L5M |
| Seating Capacity | D+3 |
| Battery type, Voltage | Lithium Ion, 48V |
| Battery Capacity | 7.5 kWh |
| Peak Power | 5.44 kWh @3500 rpm |
| Suspension and Brakes | |
| Front | Leading arm, constant rate coil spring with hydraulic dampene |
| Rear | Handlebar type |
| steering | Handle bar type |
| break | Drum Brake Hydraulically ActuatedInternal Expanding Shoe Type |
| tyre | 4.0 – 8′ |
| Weights | |
| Gross Vehicle Weight (With Batteries) | 713 kg |
| Payload | 413 kg |
| Performance | |
| Top Speed | 45 km/h |
| Typical Driving Range (On Road) | 110 ± 5 kms |
| Gradeability | 19 |
The most important specification lies in charging specifications. The charge duration can go up to 3 hours 45 minutes. The consumer will need a 48 V, 3000W off-board charger.
Why Do You Need a Piaggio Apé E city EV?
As of today, India is a growing market. Due to Piaggio's stellar R&D center, modern manufacturing unit, and stellar network, 27 lac Indian transporters use their products. With the above technical specifications, the vehicle could be a good investment for SMEs and growing startups.